"Education begins with language" Following the new European Commission report "Education begins with language" (June 2020) which seeks to support the implementation of the Recommendation of the Council of the European Union (EU) on a comprehensive approach to the teaching and learning of languages, the main focus of BABO project will be the teaching of a second language in preschool age in an innovative way offering ECEC (Early Childhood Education and Care) educators and families new educational methodologies and digital resources. The consortium decided to apply for this project for three reasons:
1. LACK OF QUALITY DIGITAL EDUCATIONAL RESOURCES IN (ECEC)
The global COVID-19 pandemic has affected many aspects of today's society, bringing to the fore the weaknesses of what were thought to be the strong points of institutions, such as education. The COVID-19 pandemic has affected educational systems in Europe, leading to the near total closures of schools, universities, and colleges. Kindergartens were not an exception, especially because at this age (0-3 and 3-6 years) is not possible to keep a security distance or wear a mask. Kindergartens were not ready for online education and when they were trying to look for online resources adapted to the age of their children they did not find enough quality educational resources with pedagogical objectives (not only songs or cartoons for entertainment). Our five preschool partners from Austria, Ireland, Belgium, and Spain and their networks suffered this situation during the lockdown and they had to develop their own amateur resources and videos adapted to online education.
2. LACK OF INNOVATION IN ECEC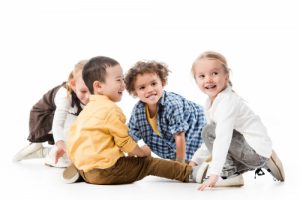 While primary, secondary, and higher education have moved forward in digital education and educational innovation, preschool education has been offering the same education for decades, and, indeed, many ECEC educators refuse digital education or new methodologies in their classrooms. Our consortium wants to improve and better adapt the education of our preschool children by combining online educational materials and new place-based classroom methods while teaching an additional language. The CEC system has been traditionally considered "care" instead of "education" in many European countries. Maybe that is the reason why this project and the innovation in ECEC are more important.
3. NEED OF A HIGH QUALITY AND ADAPTED MULTILINGUAL EDUCAITON IN THE EUROPEAN ECEC SYSTEM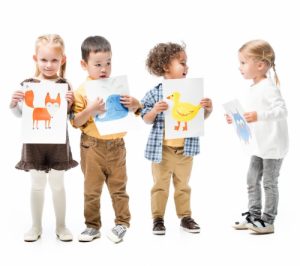 Although all European citizens should learn at least two languages in addition to their mother tongues in most European countries this is not possible. Even when the European Commission and the governments of the countries are doing great efforts to train their teachers and in investing in bilingual education the results are not as expected. Our consortium knows that preschool age is the best age for learning a second language and our four multilingual preschools can prove it. So we think this project is crucial for motivating other kindergartens in Europe to offer multilingual education in preschool age.